Sheffield Wednesday fans are victorious after a "rollercoaster" win against Barnsley saw their team return to the Championship after a two-year absence.
On Sunday the Owls beat Barnsley 1-0 in the first ever South Yorkshire derby in a League-One play-off final at Wembley.
Kayden Bramley joined more than 70,000 football fans to watch Josh Windass clinch the game in the final minute.
He said: "It was a rollercoaster ride to say the least."
There was an anxious build-up to the match for the 21-year-old, who faced missing his team play after his specially-adapted van was stolen and set alight days before he was due to travel.
But a rival Barnsley supporter, Dave Mills, director of Yorkshire Rose Holidays, stepped in to save the day and arranged to provide him with free transport to London.
Kayden said he couldn't thank Mr Mills enough for making sure he got to make his dream trip.
Speaking about the result, Kayden said: "It ended in the most dramatic way, but that's typical Wednesday.
"I didn't expect that we'd get to Wembley in the first place. But we formed the greatest comeback."
Midfielder Windass emulated his father, Dean, whose winning goal for Hull City in the 2008 Championship play-off final helped them win promotion to the Premier League.
John Hemmingham, from the England and Sheffield Wednesday band, said it was nail-biting final.
"To score in the last minute was off the scale – we were all ready for penalties.
"They don't do things easy at Sheffield, that's for sure."
Barnsley supporter Tracy Martin said although they lost, fans were incredibly proud of how their team had played.
She added: "I've never been as proud losing a game. As ever, the lads and fans were absolutely amazing.
"I walked away from Wembley with an overriding sense of coming from Barnsley and being a Barnsley supporter."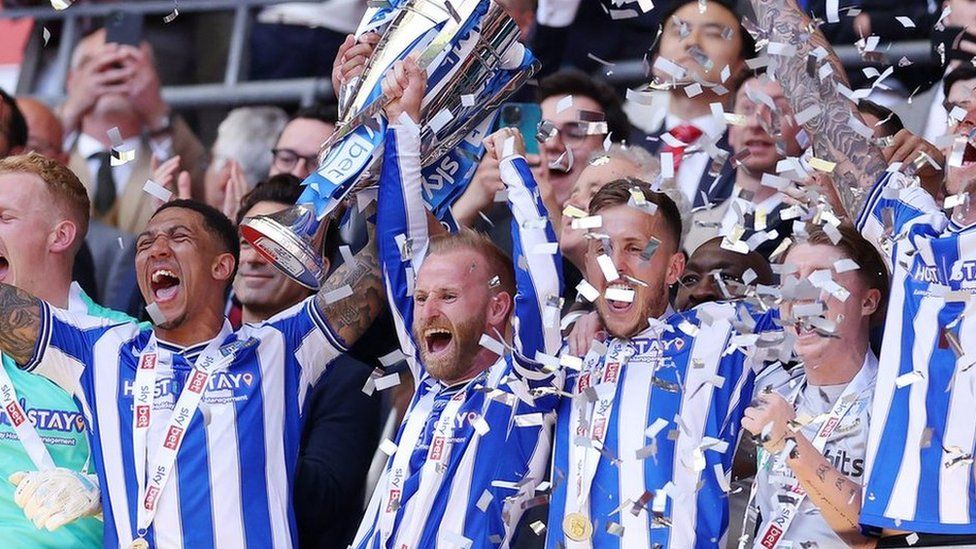 A victory parade will take place in Sheffield on Wednesday to celebrate the blue and white's promotion.
The team's players and coaching staff will parade through the city on an open top bus to celebrate with fans.
Lord Mayor Colin Ross said: "A fantastic achievement for the Owls and one I am sure Wednesday fans will be keen to celebrate."